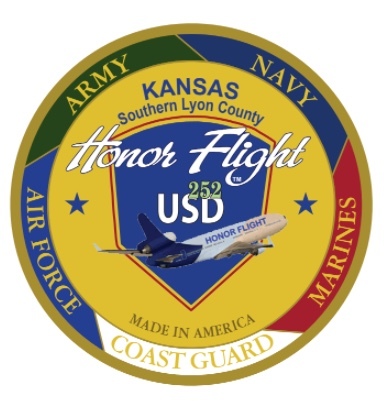 "THE TRUE SOLDIER FIGHTS, NOT BECAUSE HE HATES WHAT IS IN FRONT OF HIM, BUT BECAUSE HE LOVES WHAT IS BEHIND HIM"
For our USD 252 Honor Flight trips, students are paired with veterans as they visit a host of memorials and landmarks in and around our nation's capital. Stops included the White House; Capitol; Roosevelt, Lincoln and Jefferson Memorials; World War II, Korea and Vietnam Memorials; Holocaust Museum; and Arlington National Cemetery.
USD 252 Southern Lyon County recognizes that the Honor Flight would not be what it is today, without the support from our surrounding communities! Thank you!
If you are a veteran, or know someone that is, and want an application to attend, please click here.
If you would like to make a donation, please send cash/check to:
USD 252 Honor Flight
100 Commercial St., Ste A
P.O. Box 278
Hartford, KS 66854