When should your child stay home from school/early childhood:
Fever of 100.0 or higher

Diarrhea

Vomiting

Continuous Coughing

Unable to actively participate in school activities

Other potentially contagious symptoms.
**Early childhood will give a courtesy call with any temp of 99.0 degrees. See Early Childhood Policy for more details.
When can your child return to school/daycare:
Child must be fever free for 24 hours without the use of fever reducing medication and/or symptom free. Fever reducing medication includes Tylenol(acetaminophen) and Motrin(Ibuprofen)

Students must remain home for 24 hours after last episode of vomiting/diarrhea or after taking first does of antibiotic for an infection
USD 252 K-12 follows the KDHE Kansas Classroom Handbook of Communicable Diseases. The Classroom Handbook of Communicable Diseases is a resource for school nurses and is intended as a brief overview of infectious diseases which are of public health importance. Some instances are case by case.
Early childhood follows Early Childhood Policy in addition to Guidelines for Exclusion of Children(or Staff Working With Children) Who Are Ill As Recommended in Caring for Our Children: National Health and Safety Standards: Guidelines for Out of Home Child Care Programs(Third Edition)
All students enrolling in any district school shall provide the building principal with proof of immunization of certain diseases or furnish documents to satisfy statutory requirements. Booster shots mandated by the Secretary of the Department of Health and Environment are also required.
Non-immunized students, including those with a religious, medical or other statutory exemption, shall be excluded from attending school during an outbreak of a vaccine- preventable disease in their attendance building. This will be determined on a case-by-case basis by a licensed employee.
Immunization requirements and recommendations are based the Advisory Committee on Immunization Practices and the Centers for Disease Control and Prevention recommendations. Immunizations are used to protect children from once-common highly infectious diseases.
For further details see the USD252 Policy Handbook, Chapter J; page JGCB(right hand corner of the policy book)
Immunizations can be obtained from your health care provider or local health department.
Once your child receives their vaccination(s) a copy will be needed at your child's school.
The current recommended, minimum interval and catch up immunization schedules may be found on the CDC website.



KDHE Requirements for Early Childhood and K-12 for 2022-2023 can be found below:
KDHE Medical Exemption Form: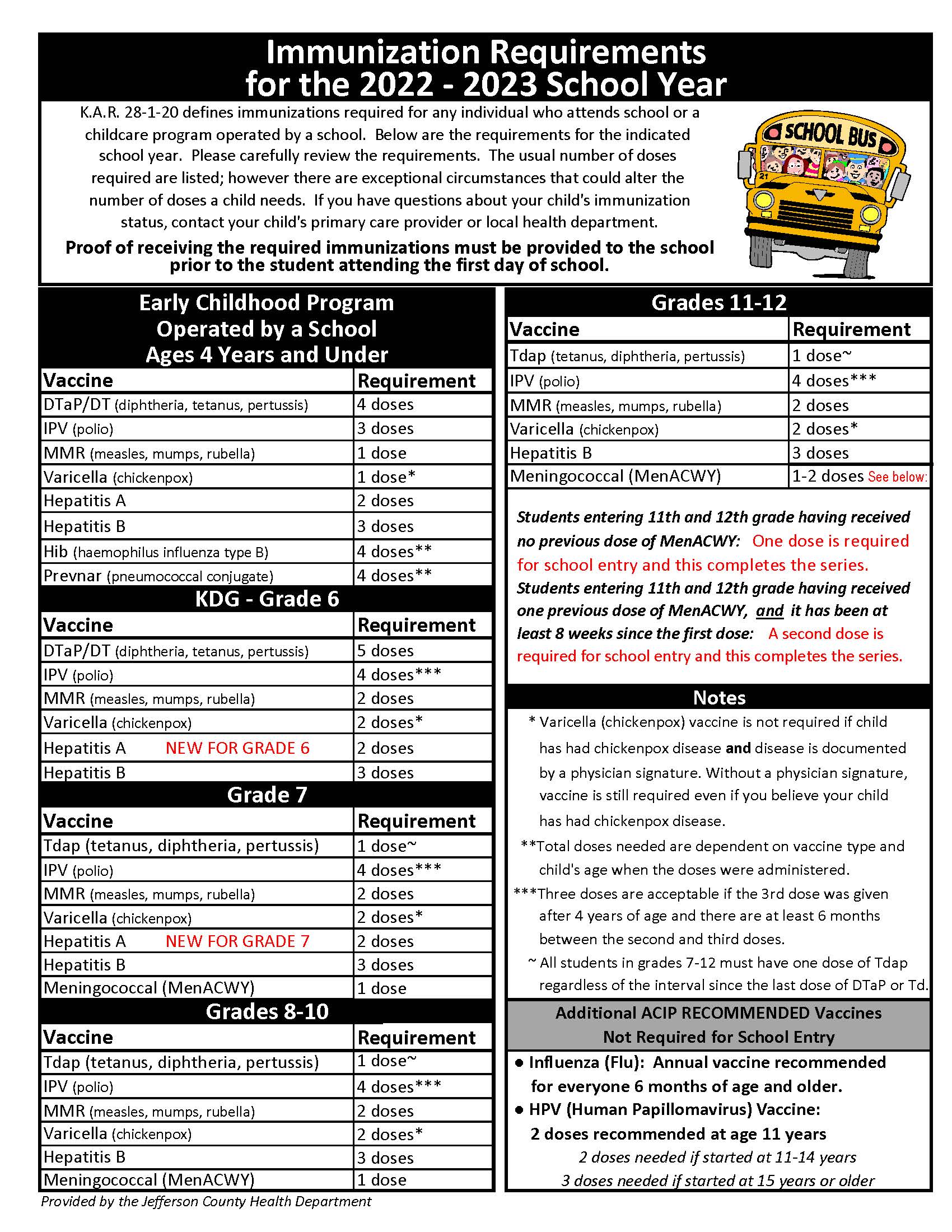 Health Assessments and Physicals
Other Health Related Information/Forms