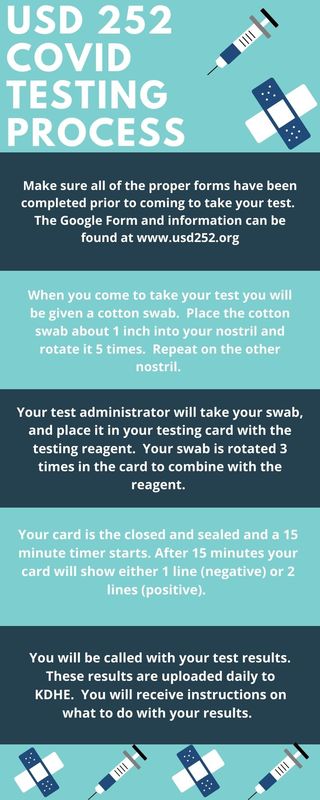 USD 252 IS NOW OFFERING COVID 19 TESTING
Testing is currently available for symptomatic staff and their immediate family.
Step 1: Fill out a COVID-19 Testing Form to submit your information for testing.
Step 2: Read the USD 252 COVID-19 Testing Process to learn how to administer your test.
Step 3: Call your designated building's secretary to schedule an appointment to be tested. Only specified times will be available.
Step 4: Drive to your building at your appointment time and park in front of the main office. Remain in your vehicle. Someone will be out to administer your test soon.
Step 5: Return home. You will receive a call with your test results and instructions on what to do at that time.

AVAILABLE TESTING TIMES: ALL LOCATIONS
Monday-Friday 9:00 AM to 10:00AM
Olpe Elementary: 620-475-3277
Olpe High School: 620-475-3223
Neosho Rapids Elementary: 620-342-7783
Hartford High School: 620-392-5515